Résidence organoléptique 24 au 29 Juin 2013 à UMAJ 51 rue de Crimée Marseille - curator : Olivier Zol.
Les soifs #1 / ferveur à l'air "libre" (altérations moléculaires sous l'influence de ferments de préférence lactique)
Le temps c'est l'air autour de nous.
What is time?
Intuitive bacteriology and sound through visual and literary aspects of organoleptic experiences.
We begin to understand the new concepts of haiku wars, non-lethal weapons, chemical warfare and so on. Brown noise is being more related to a 5K$ small pocket-light that radiates low frequencies in order to break the stability of otolith crystals in the inner-ear and makes you - excuse me the word – puke (gerber en français), than to a low rounded white noise used in sound analysis. What are new boundaries in our plastic world?
We will build our research on a common basis of 5 long-open-points*: heat, space, stillness, distance and the other that will be, time. We will then practically start using our own bodies in combination with the air around us (in the idea of fermenting until the flavour is ripe). Our goal is to find which actions can make our living organisms consume the dead matter and transform it in the process of freeing substances for the further sustenance of life. We will accompany these researches by the combination of food and sound processing, from the fabrication of primitive forms of food fermentation like kimchi, miso, masa, massato, malt, etc… in relationship with the work of analog and magnetic sounds - to understand what is actually the concept of time embed in the notions of heat, space, stillness and distance. In simple words: time is the air around us but it's also the time of our family, the time of reverse pyramids. This workshop intends to investigate in the common language of body, food and sound the notion of time recording that can be used thereafter as a methodology within plural forms of art.
Technical requirement: a kitchen and a mono sound system (amplifier and cabinet)
What is interesting in this residency at UMAJ Marseilles curated by Olivier Zol was the time passed with living edible organism. Where is the boundary of edible? Scum or Flower? Everything went fine even if I flare a minimal danger. Time is the recording of air through prokaryote (uncored) cells.
Les différents types de procédés de fermentation sauvage donnent lieu à divers types de machines analogiques d'enregistrement. Telle la couche oxalique sucrée de la bande magnétique les diff. espèces bact. conservent la mémoire de l'air tout en incluant la notion de défilement du temps comme lieu de passage. à noter BASF, propriétaire de la souche QST 713 (Bacillus Subtilis) Serenade MAX.
Un Melon Au Japon (melon en fermentation avec kombusha et Miso Brine)
Miso (haricot)
Koji (riz rouge / Apergillus Oryzae)
Kudels'Kim-Chi 26 Janvier 2013 (…
Natto Vulgaris (soja beans without Bacillus Subtilis)
Masa & Masa Vanille (nixtamalisation de maïs avec catalysateur salivaire)
Hordeum & filtrage Hordeum (orge, water, sugar)
Le barbu : Orgosmosis Algae Basilicum - La femme de sables : Orgo Brine evaporation - Malt primitif
Sogni d'Orzo (préparation à base d'orge)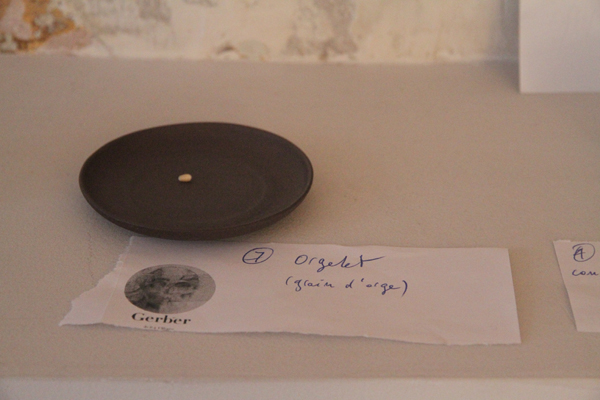 Orgelet : grain d'orge
Eau de Marseille (PH 8,1- Mg/L : Calcium 70, Magnésium 12, Sodium 12,5, Potassium 1,3, Bicarbonates 171, 2,1Nitrates, Sulfates 82,5, Chlorure, Aluminium inf. à 0,01, Fer 0,03, Nitrites 0, Fluor 0,08, Pesticides Non décelés, Métaux lourds Non décelés)
Purée bébé (banane + kiwi)
Lait humain (à base de colostrum)
Massato - Manioc avec catalysateur salivaire (peut contenir des traces d'acides cyanogènes)
Massato - Manioc avec catalysateur salivaire (grammage positif)
Kim-Chi 2ème génération (…
Japanese Water (eau, sels & fleurs de la Drôme)
What is performance ? 26 septembre 2012 (raisin de Callelongue : jus & marc)
Korean Salt
Grand-Mother 1994 (kombusha)
Masa Drink (jus après récupération / nixtamal de maïs avec catalysateur salivaire)
Jet-Koal (saumure d'anchois sels &sucres)
Miso Brine (eau & sels)
Palestine (képhir, panella, 3 olives spéciales UMAJ, kombusha, citron vert) Merci à Virginie
Noyau (procaryote)
Pâte crue (levain sarazin)
Pâte cuite (levain sarazin)
Pâte couchée dans une huitre baignant dans l'eau sucrée
Avertissement : tout est comestible sauf peut-être le massato (droite). Fiez-vous à vos limites d'ingestion.Si vous goutez, servez-vous d'un bout de bois (pas de métal) et aller chercher vers le fond. Recouvrir après.
notes
« I keep seeing the words. Heat, space, stillness, distance. They've become visual states of mind. I'm not sure what that means. I keep seeing figures in isolation, I see past physical dimension into the feelings that these words engender, feelings that deepen over time. That's the other word, time. » Point Omega Don Delillo
All compositions by nicolas gerber June 24th to 29th 2013 at UMAJ Marseilles France except Grand-Mother by Carina Kühling (1994), What is performance ? processed by Oryctophonic Group (september 2012) and Kudelsk'm Chi by n.g. (January 2013). Thank you to Virginie for Képhir.
Be quiet it's recording / Nicolas Gerber
I propose to build edible recording machines because time is the air around us. But let's go back to the beginning: what is time? We begin to understand the new concepts of Haiku War or Witz-Krieg, non-lethal weapons, chemical warfare, macrobiotic surveillance and so on. Brown noise is being more related to a 5K$ small pocket-light that radiates low frequencies in order to break the stability of otolith crystals in the inner-ear and makes you - excuse me the word – puke (gerber en français), than to a low rounded white noise used in archaic sound analysis. What are the new boundaries in our plastic world where dead organisms are preserved by modified Genetic? Being a sound & image composer, I came on the idea of getting into intuitive bacteriology through sound, visual and literary aspects of organoleptic experiences. I will build my research on a common basis of 5 long open Ω points: heat, space, stillness, distance and the other that will be, time. I will then practically use my own body in combination with the air around us; the Leipzig Air (in the idea of fermenting until the flavor is ripe). My goal is to find which actions can make living organisms consume the dead matter and transform it in the process of freeing substances for the further sustenance of life. I will accompany these researches by the combination of food and sound processing, from the fabrication of primitive forms of food fermentation like kim-chi, miso, masa, massato, malt, etc… in relationship with the work of analog and magnetic sound recorders (reel-to-reel) - to understand what is actually the concept of time embed in the notions of heat, space, stillness and distance. Food in the process of fermentation has the capacity to respond to these questions, it becomes a special kind of recording machine, my purpose is to propose different types of machines in order to reconnect to analog ways of living, understand that living organisms around us have the key to our ignorance, that these type of machines that deal with time can help us in the rediscovery of future, present, past. Fermentation records our contemporary history but links also to our ancient history. In other words: time is the air around us but it's also the time of our family, the time of pyramids.
But right now, we need to feed our families with edible intelligent food (from the birth to the possible 130 years of a human being), fermentation is one of the key to the lack of living matter. Building different edible recording machines trough fermentation of food means to approach the different speeds of time – for example: with the same amount of salt used in various process, kim-chi (vegetables) and masa (corn) are considered as fast machines, they ferment quite easily and rapidly; on the other hands, miso (bean) or koji used for saké (rice) are slow machines, the process of fermentation is slow. I will spend time with these incredibly strong living edible organisms.
Now, where is the boundary of edible? Scum or flower? Where is the danger, even minimal danger of poisoning? Taste, odor, appearance, color, consistency? Yes maybe, but our experience with food proves to go far beyond simplification of traditional organoleptic procedures. I think that every human being knows whether food is good or bad magic and that means that he has to culturally trespass the limits of standard edibility. In order to deepen my research during my stay, I would like to work with a food-testing laboratory, to differentiate and follow the development of studio-made bacillus (bacteria), to know if the fermenting process has a positive weight (fit to be eaten). I would like also to meet microbiologists, bacteriologists and researchers in Leipzig to exchange about this vast subject (my German is ok ;-), get information, collect interviews and secrets about the loving prokaryote (uncored) cells. This residency workshop intends to investigate in the common language of body, food and sound the notion of time recording that can be used thereafter as a methodology within plural forms of art.
Primary technical requirement: a simple kitchen and a mono sound system (amplifier and cabinet) - Protocol: the most complex work is to organize researches and experiences in order to transmit a clear view to the public, invent the right approach to the handling of the object - a protocol has to engage the various politics of the public into the pleasure of food experiments, work with our cultural tabu towards food processing, fright and excitement - but also make the public aware of the preciousness of what we have right next to us, in the air. As one revolutionary girl of Turin in Italy said to the establishing political power during the 80's on air of the first Free Anarchic Radios « We have decided not to breathe your air anymore ». I guess that this is the real and deepest purpose of sending my project to « the politics and pleasure of food ». Marseilles, July 16th 2013